OK, so Christmas Eve 2010, I picked up a f-hole parlor size guitar off Craig's List.  It was part of a "bundle" of 6 instruments.  Pictures being what they are, I was disappointed with it, but got it as part of the deal.  It seems to be 1930ish, fau-reso, non-label guitar.

The main problem was major cracking on the back....
Thinking about the older, very poor repairs, and my desire to have a thinner than the 3 3/4 thick box, I decided to cut the box down to 2 1/2" thick and getting rid of the damaged back at the same time...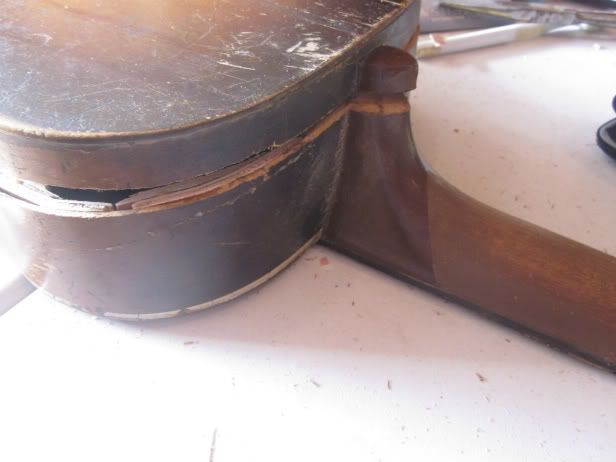 The picture above shows some work already do.  I'm using luan strips to make poor man's kerfing.
After sanding everything level, I'll be gluing on a new back (more Luan?), but not before some important decisions about electronics, pickup(s), bracking, etc.
Updates to follow... thanks for looking...
the best,
Wichita Sam