I found cigar box guitars on youtube one night surfing for blues lessons.  Ran across Shane Speal and then Seasick Steve and it's been madness ever since.
My first one: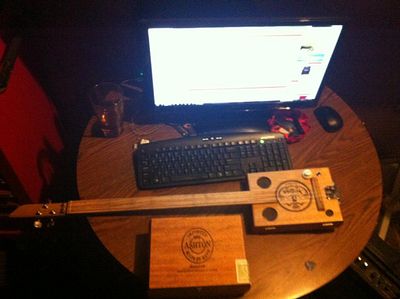 My second one:
Witchy-Poo - currently on tour with Dave Phillips and Masquerade in FL
My first fretted CBG and my first 4-string
I needed a 3-string with frets, so I built this next:
My mom wanted one.  She had an old Dutch Masters box:
Then I built this one to experiment with my homemade single coil that I wound on my homemade pickup winder:
The pickup is hidden under the lid.  I used neodynium magnets that were really strong.
Here's the CBG it's hidden in:
Here's what's on my workbench right now: Fretted 4-string:
I also build a few full-sized guitars.  This was my summer project this year:
It's true everyone can make an instrument and create music: